Bacon has been used for many purposes over the years. Many have been good. Oh, so many have been good! But with something as tasty and wonderful as bacon, occasionally, bad people will use it for their very bad plans. It has been recently reported by CBS that a man has done just that. This man tried to use bacon bikinis (!) to scam money out of folks who wanted to donate to charity.
Terrible!
The alleged scammer – Steve Lightfoot – owns a restaurant in Sacramento. At first, he didn't use bacon bikinis. He held a memorial service for the family of one of his teenage employees who had been killed in a car accident. When the family asked him for the money he raised from the memorial, he kept avoiding them. It was only until the family contacted the CBS news reporter and the reporter spoke to Lightfoot that he crumbled and admitted he spent the money. Later, he did give the family the money they were owed. But come on, trying to steal money from a mourning teen's family? That's nuts.
What Does Bacon Have to Do With This?
The reporter found out that the fake memorial hadn't been the only time the restaurant owner had allegedly used a charity to get some money out of people. The man had also thrown a bacon bikini contest to raise money for a diabetes charity in the name of his nineteen-year-old daughter. The bikini contest consisted of a bunch of ladies – in the video below you'll see one is wearing "Canadian bacon"! – wearing woven strips of bacon as bikinis. The audience got to vote for whichever one they liked best. Now, normally, I would be all for this sort of thing. Bacon and bikinis are pretty awesome. But unfortunately, according to the reporter's investigations, the charity didn't exist.
If you ask me, this sort of behaviour goes against the true spirit of bacon. Bacon is awesome, and it does not need to lie to get people to like it. But the awesomeness of bacon gives it power. And with power comes responsibility (that is deep). Of course people are going to give you money when you have a bacon bikini contest! But all of us have the responsibility to use bacon as a tool for good, and not a weapon for evil.
After all, as the report says he didn't get much out of this scam: a couple hundred dollars.
You can see the full report below. I don't know about you, but I think I'm going to have to eat a plate full of bacon to get over this bad news story: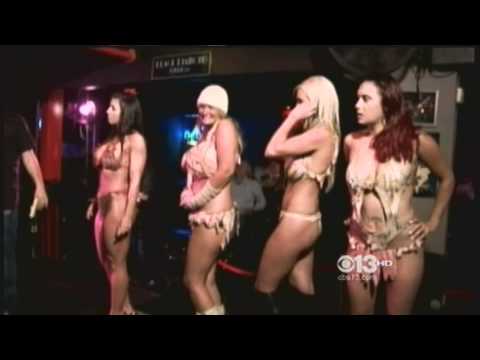 What do you think? How do you think this man should be punished or should he just be left alone?