While bacon-themed presents may seem like a logical fit for some of the older members of your family, don't forget about the kids in your life. They probably love bacon as much as you do – they just don't know it yet. So here are five bacon-y presents to get your kids really excited about the Holidays..
1. Bacon Onesies
Do you find that all of the regular outfits out there for your newborn are just a little bland? Looking for something that will really reflect your family's true priorities, but yet will be comfortable for the lil tyke? Consider Bacon Onesies! For instance, check out this "I Heart Bacon" onesie. Or, if you are looking for something a little more mysterious, there's "Bacon's Good for Healing." (Uhm, okay?) You'll find a wide range of similar ones at Redbubble.com. Might as well pick up a few – you know how many clothes newborns go through!
2. Bacon Lunchbox
Kids don't always love to get things that remind them of school during the Holidays, but when the thing they are getting looks like it is covered in bacon, I don't think they'll mind. I present to you: the bacon lunchbox. The bonus for this type of gift is that the outside will probably make them so hungry that they'll eat whatever you've put inside it, even leftovers. But it probably also comes with a warning: if your kids get this lunchbox, they are going to expect more bacon!
3. Bacon Skateboard
Finding "cool" presents for your teenager is always hard. But if there's one thing I know – and there probably is only one thing – it's that teens love bacon. So, I think you can't go wrong with a bacon skateboard. As well, its apparently made of the "best quality hard-rock maple." There's several different versions – some a little more abstract than others. I like this one, for its photorealistic image. It looks so much like bacon, I can almost taste it!
4. Chocolate-Bacon Gingerbread House
Making gingerbread for the holidays is a treat for both kids and adults. But why not turn this into an opportunity to spread some bacon cheer? Instead of using gingerbread, Anthony Bourdain has created a candy house out of chocolate bacon! The trick is to use a chocolate-bacon cake for the structure of the building, and to weave some bacon for the roof. I think coating the whole bacon weave in chocolate would be a great addition to this piece, but I'm not a world-famous chef, so what do I know. Anyway, the house is a great idea, and your kids will definitely love helping you in its construction. (Particularly if they get to eat any leftovers!)
5. My First Bacon
This is my favourite. This plush guy is meant to be your kid's first introduction to bacon. Like all of us, bacon just wants to be hugged. And who doesn't want to hug bacon? With My First Bacon, your kid can accomplish both goals by spending all day hugging and squeezing bacon to his or her heart's delight. As the makers say, "Even if they're not on solid foods yet, your progeny shouldn't be deprived of the joys of bacon. " Not only that, but this bacon talks. Squeeze him hard enough, and he'll tell you that "I'm bacon." I'm pretty sure I could spend all day hugging this bacon.
If you needed any more convincing, here's a promo video for the toy: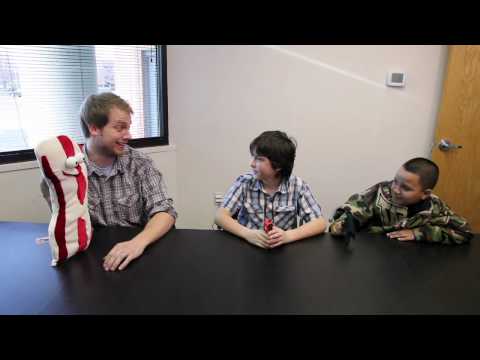 Would you get your child anything that we just mentioned? Do you have another suggestion that you think we missed?