Hopefully, after all the stress and craziness of the last few days, you are finally getting a chance to relax with some loved ones. So curl up in front of the fireplace, pour yourself some bacon eggnog, and as your cares fly away, gently peruse our round-up of some of the most holiday-tastic things the bacon universe has to offer.
1. Bacon wearing a Santa hat
The bacon featured in this photo is Mr Shaky Bacon, a plush toy for the young'uns. He was featured wearing a Santa hat on a set of cards that was available a few years ago, but they are, unfortunately, no longer available. But this does make me realize how much better bacon looks with a Santa hat. If at all possible, please put some Santa hats on all of the bacon you serve today. Or better yet, wear some bacon scarves while you wear your Santa hat. The important thing is to maintain the bacon-Santa hat connection. Trust me: I can almost feel the bacony Holiday joy.
2. Bacon Song (Holiday Edition)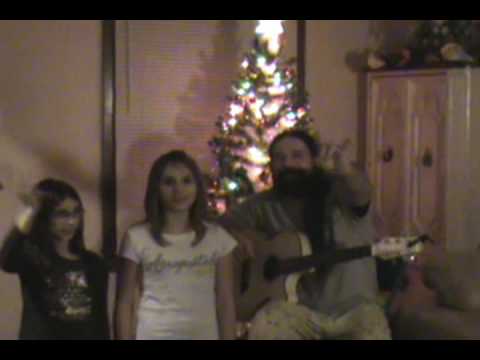 Dan Nolater is a simple man, and he has only this to say: he loves bacon, more than spam, and he can't understand why other people eat ham. I agree with him completely. His daughters join him in his singing at key moments, but for the most part, they just seem happy to be standing next to their Dad. That's what the holidays are for: letting your family members do crazy things while you smile and nod your head. Overall, the video is heartwarming and a little bit sweet: kind of like bacon!
3. Holiday Bacon T-Shirt
In all my excitement to tell everyone about the many bacon t-shirts that are available, I neglected to mention the most exciting one for this holiday season – a holiday bacon t-shirt. Well, now that you've finished shopping for everyone else, maybe it is time to splurge on something that you will truly love and cherish.
4. Bacon McFeast – Dancer
A week ago, we showed you a Swedish ad for Bacon McFeast. It shocked me with its magical ability to convey the tackiness of the 80s in a thirty second spot. But we are in luck! THERE'S MORE OF THEM. This one features a man who is so excited for bacon he just dances in front of a decorated tree. ACCURATE. I pretty much just have one thing to say after watching this: thank you, my friends, for the Swedes.
5. Bacon Christmas Sandwiches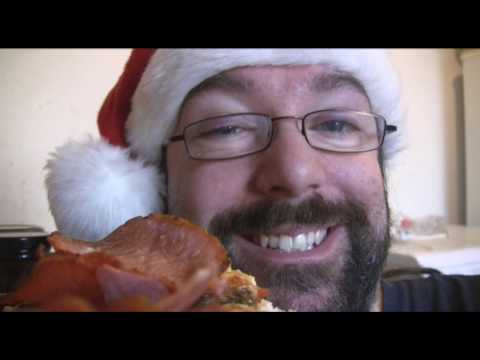 The recipe and preparation are British, so I'm not sure if you'll be able to locate the necessary "redcurrant" sauce that the gentleman, Rob Chappers, massages into his bread. (His British pizza, as well, looks like no pizza that I've seen). And I'm not sure why the soundtrack for a holiday video is some hair metal guitar noodling. But I think you should take a cue from Mr Chappers. Go a little crazy today with your food. Tis' the season to indulge. So spread some cranberry sauce on your bacon. Dip it into your coffee. Do anything you like with your bacon. We won't judge. I promise.