Now that many of us are recovering from a big holiday feast, we are probably discovering that there is a lot of leftover turkey lying around. And since you probably have some bacon – I mean, you should always have bacon! – the best thing to do is to combine these divine ingredients into something amazing. The easiest way to do that is to make some bacon and turkey sandwiches. Mmmmm. Here's a few that I've discovered.
Grilled Turkey, Bacon, Radicchio and Blue Cheese Sandwich
This baby gets me salivating just on the first step – mashing blue cheese and mayo in a bowl. After adding pepper, you put this mixture on some bread slices and top with bacon, turkey and the radicchio leaves. For the final touch, you pop it in a skillet for a few minutes like you would any regular grilled cheese. I can just smell that stinky cheese melting on the beautifully fragrant bacon. Oh my Lord. I think I'm in love.
Bacon, Turkey and Avocado Sandwich
The recipe provided here suggests making an onion relish and a special aioli. Since I'm super-lazy, I would skip that and just use mayo with my sandwich. They also suggest pre-cooking your bacon a bit, but then toasting the bacon on the bread in the oven. This sounds pretty awesome. Just imagine all of the mouth-watering baconness spreading throughout the toasted bread. Yum! Then put the turkey, avocado and mayo on top.
Turkey, Bacon and Cranberry Sauce Sandwich
This site has a pretty decent idea here. I really like the idea of using cranberry sauce. The worst thing about turkey leftovers is that they get super-dry the longer you keep them. Adding some of the leftover cranberry sauce will help keep the sandwich moist, and will make it easier to scarf down. And sweet and savoury always make food magically delicious. Add some cheese to this, and I think I want to cry for joy.
Turkey Pesto Bacon Sandwich
If you want something a little more frou-frou, might I suggest some pesto on your leftovers? This sandwich is apparently also weight-watchers friendly – but we won't hold that against it. They offer suggestions on how to make pesto, but once again, my super-laziness would encourage me to just buy pesto at the store.
Hot Brown Sandwich
Uhhh. I'm not sure I need to make this. The Hot Brown sandwich was apparently invented in the Brown Hotel in Louisville, Kentucky in 1923 as a late night snack. But "sandwich" in this case means "hot mush of cream and cheese and toast." I'll let "Betty" show you what I mean. And please, as you watch, marvel at Betty's precisely coiffed hair: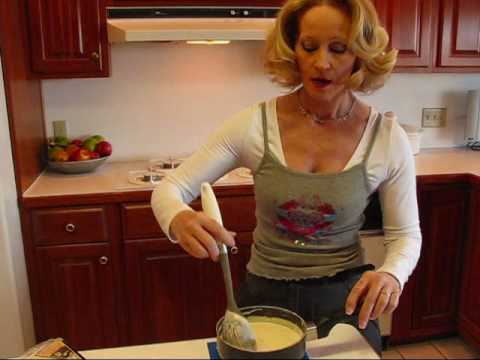 I do like that bacon was involved in this goo somehow, but I feel like it was just an afterthought rather than a crucial part of the dish. Won't anyone think of the bacon?
Pretty Much Anything Bacon Turkey Sandwich
My favourite type of turkey bacon sandwich: I just put whatever I find in the fridge on it – cheese, mustard, mayo, hot sauce, tomatoes, lettuce. And you know what's amazing about this? Anything you put on it will taste good. That's the great thing about both bacon and the holidays: the happy feelings keep on going.
What do you put on your leftover turkey and bacon sandwiches? Please share your best suggestions with us!