In today's Friday Link Love, we'd like to salute one of our favourite blogs and a pioneer in the field of bacon-love: Heather Lauer and her Bacon Unwrapped. Starting in 2005, this blog has grown from a hobby into a full-fledged career. Among other bacon-related amazingness, Lauer released a book last year called Bacon: A Love Story. If anyone knows bacon, it is Heather Lauer!
The Origins of Bacon Unwrapped
Like anything worthwhile, bacon unwrapped originated from a night of drinking. Lauer had been getting soused with her brothers when the subject of bacon came up. Over several drinks, Lauer and her brothers noted what we have long known to be true: everyone loves bacon! (Well, except for a few crazy holdouts.) But this was back in 2005, when there weren't many blogs around to service this need. Although Lauer soon sobered up, she decided that this horrible bacon-shaped emptiness on the Internet needed to be filled. A few days later, unable to let go of the idea, she sat down one night, opened a blogger account, and began blogging. Bacon success and notoriety soon followed.
Over five years later, Lauer still keeps going. While many of her fellow early bacon-bloggers have fallen by the wayside (no doubt too busy eating bacon to blog about it), she keeps going. What drives her? Bacon's undying versatility. As she says in this interview, "Bacon is simply delicious and there are an unlimited number of ways to explore it. It's such a versatile meat, and it can truly make almost anything taste better." Every day I find more and more ways to agree with Lauer: bacon is nearly infinite in its possibilities.
But it's not only crazy bacon-mash-ups that inspire her. She also says that it's the bacon people that make her happy and want to keep going. Bacon fans, "and their endlessly entertaining stories – are really what have kept me going for five plus years." Well, Heather, we love you too!
What Is Bacon Unwrapped?
Bacon Unwrapped has many of the other benefits of a regular bacon blog. It features new bacon recipes and shows off crazy bacon inventions. One of their most popular posts is for bacon-wrapped tater tots. I can guess why. As well, a friend named Junior comes onto the blog occasionally to either sing or, in this case, make a Bacon Explosion-inspired dish with a pizza inside it (!).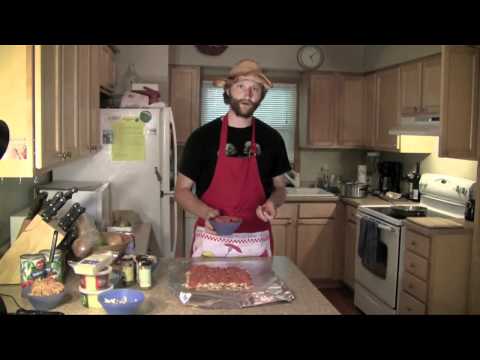 But now that Heather Lauer is a big bacon-celebrity, the blog has become focused on her travels around the country, and all of the amazing bacon things she is doing. She has recently started something called the Bacon Games. She's regularly invited to do interviews. And of, course, she has been touring around and doing support for her book, Bacon: A Love Story. I'm reading this book right now, so I won't give you any details until I've finished it. However, it does seem like a pretty amazing book. I can already tell its worth its weight in bacon!
Kudos, once again, to Heather Lauer and her Bacon Unwrapped blog! Lauer likes to call bacon lovers the "Nation of Bacon." We here at the Republic of Bacon prefer the term, "Republic." But as long as the bacon-love is there, we ain't too picky about word choice.