We seem to see a lot of bacon-related weaponry here at the Republic of Bacon. I guess there are plenty of bacon enthusiasts out there who are also into weapons. Maybe because bacon is so gosh-darned manly? (But don't say that to any of the female bacon fans out there!) Although we here at the Republic of Bacon are generally a very peaceful nation – we spend most of our time napping after a healthy portion of bacon and bacon-related awesomeness – I think we can all agree that bacon sometimes needs to be saved from the forces of non-bacon. Such as when vegans start to get their noses into our bizness [Note: I have a vegan best friend... just saying]. And when that happens, it's always nice to know that you'll have some very powerful, nutty and thoroughly non-lethal weaponry available. That's why we're happy to tell you about the Bacon Bazooka, or Ba-Zooka. Full details about this high-powered amazingess follows after the jump.
Bacon Day Deserves a Bacon-Calibre Weapon
The creator of the Ba-Zooka is Nick Hamon, the blogger behind This Is Freaking Ridiculous. Hamon has been Internet and bacon-famous before: he created the BAK-47 and the BAK-AT-AT, which have both made big splashes in the baco-blogosphere (and have been featured on the Republic of Bacon). Both of these bacon-toys were created to help celebrate Hamon's local Bacon Day. Hamon's Bacon Day (a holiday of his own invention) consists of getting a bunch of friends together at a park in Arkansas, and serving them a smorgasbord of bacon dishes. These include "bacon ice cream, bacon donuts, bacon-wrapped tofu, deep-fried bacon, and caramel bacon fudge." This year, the blogger kept up the tradition of creating something wacky, and built the BA-Zooka, a bacon-covered bazooka, for the party.
Nothing Delicious Was Lost in the Making of this Weapon
The BA-Zooka is three feet long and is operated by AA batteries. It is also, as you can see, covered in bacon. Hamon was inspired to make the BA-Zooka because of his original success with the BAK-47. Why not keep the weapon theme going? And for any true bacon fans out there (ie, all of us), don't fret: he made sure to use only bacon that expired in its creation. Using good bacon for anything but eating is always a disgrace.
For Those Times When Your Summer Sausage Needs to Go Higher
You can watch the Ba-Zooka in action below. And if you have any concerns about anyone getting hurt with bullets or explosions, you needn't worry. The only thing shot out of the BA-Zooka were some summer sausages. They don't get much airborne velocity, but that's probably too be expected. I haven't met many aerodynamic summer sausages.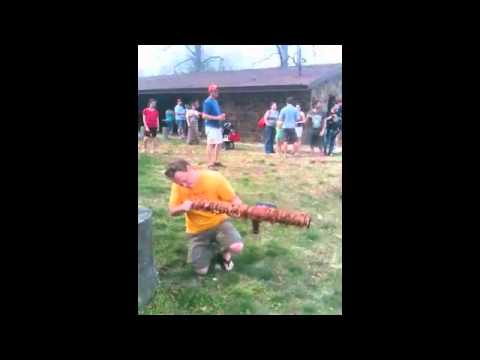 How about you – what do you think of the BA-Zooka? Are you dying to fling some summer sausage into the night sky with your bacon-covered bazooka? Or do you think the whole practice of slapping bacon onto weapons for the purposes of sport and hilarity a barbaric practice? We have provided a small box for you to air your feelings. Please, no firing of bacon-grade ballistics at the screen, please.