Bacon has been having a bit of a love affair with desserts lately. Bacon chocolates, cupcakes and cookies are so old school they are almost passé (Almost, I said! How can anything with bacon be passé?). But there's always room for more, and even crazier desserts. So far, no one has talked about bacon and marshmallows. That's why today, I'm going to introduce you to this bizarre and gooey world of bacon marshmallow desserts. Details after the break.
Maple Bacon S'mores
If you are feeling that a piece of bacon stuck inside a marshmallow isn't much to make a hullabaloo about – after all, any schmoe with a stick of bacon and a strong will can jam a piece of bacon into a marshmallow – the fine folks at Plush Puffs have just the thing for you. It's a gosh-darned bacon marshmallow! Yes, somehow these guys have collected the essence of bacon, bottled it, and infused into every part of a marshmallow, turning the 'mallow a wholesome tan colour.
No word yet on whether this is delightful-tasting or merely disgusting, but Bacon Unwrapped does suggest the brilliant idea of making bacon s'mores with the bacon-flavoured marshmallows. Daddy Cakes Bakery has also leapt into the bacon-marshmallow-dessert field and have created some "Daddy Cakes" (basically two mini pancakes with a bacon marshmallow in the middle) with Plush Puffs' speciality marshmallows. From the follow Daddy Cakes video, it seems clear that the bacon marshmallows is actually quite terrific.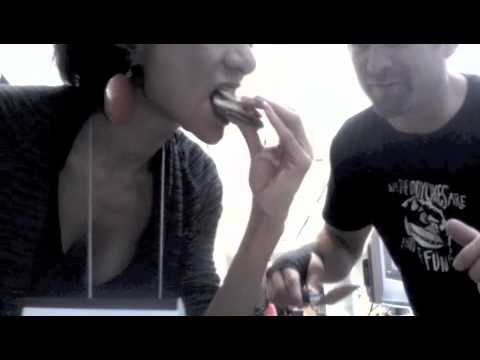 But the best part of these bacon-flavoured marshmallows is that they can be used pretty much anywhere, for anything. For your s'mores, may we suggest using bacon-flavoured chocolate as well? And putting a stick of bacon in there? And serving it with some hot chocolate with bacon marshmallows in it? Go ahead – try to prove to us that it isn't delicious.
Maple Bacon Mallamore
For starters, the ever-reliable folks at Bacon Freak have unleashed upon the world this bacon-flavoured mallamore. Not as crazy as you'd think – it's made from a "home-made" marshmallow that is free of gluten and high-fructose corn syrup. And the graham crackers are organic. In fact, the only thing that's really weird – or at least, potentially off-putting – about this product is the piece of maple bacon that is inside the marshmallow. And that doesn't really make the product crazy – it makes it wonderful.
Bacon Marshmallow Sandwiches
And then there is this. I don't even know what to make of this. I guess it is marshmallows melted between two slices of bacon? Although I'm a pretty adventurous soul, I do not know if I would love this. The Endless Simmer people say that they were "delightful" (the marshmallows were from Plush Puffs, but there is no suggestion they were bacon-flavoured marshmallows). I'll leave it up to some of our readers to find out if it is any good.
What do you think of the bacon and marshmallows? Are you going to be making any bacon-flavoured s'mores anytime soon?