It's been a crazy week for bacon. From Lady Gaga's bacon-eating entourage to a talking dog that can't get enough of bacon, bacon has been coming up again and again. (As it should!) Here is our list of our favourite bacon-related web posts for the week.
Bacon Pancakes
We always like to give a shoutout to blogs that aren't always bacon-related, but that have decided to feature the world's most awesomest food. This week, one of our favourite Mommy blogs – Mommy? I'm Hungry! – reminded us of the indescribable taste-sensation of pancakes with bacon inside of them. You can find the author Rachelle's recipe for the pancakes here. Bacon is always a great breakfast idea. You can't beat bacon for sheer wake-up power in the morning!
Lady Gaga and Her Friends Love Bacon
Lady Gaga and her entourage are apparently humongous fans of bacon. Last week, she appeared on the Graham Norton show, a talk show in England. Gaga, being the crazy star that she is, apparently brought along her entire entourage – a group of more than 80 people. This band of freaks and hangers-on took up all of the dressing rooms, and like a cloud of high-fashion locusts, quickly polished off the craft table. As a result, the canteen had to crank out bacon sandwiches – a favourite treat in England – for everyone. Gaga's entourage loved the bacon sandwiches so much, they ate all of the canteen's bacon! There wasn't even enough left over for the crew. As they said in the Daily Mirror: if only they had left some behind, Lady Gaga might have used any leftover bacon in a new dress for herself!
BaconScotch
Our newest favourite bacon blog is BaconScotch. Joining together the twin glories of bacon and Scotch, this blog is run by a veritable pack of bacon lovers. Recent posts have given us recipes for bacon-wrapped asparagus, strawberry bacon hot BBQ sauce and bacon oysters (along with some Scotch-related posts). They've only just started, but with our encouragement, and the encouragement of the rest of the baco-blogosphere, I'm sure they'll be crafting Internet gold. Kudos to our new friends, and welcome!
Bacon Friday
Here's our public service announcement part of our day: if you live in England, and you are interested in reviewing bacon sandwiches from local restaurants, you should let Bacon Friday know. They are looking for experienced reviewers with some great taste buds. I'd say hit 'em up! If there's something the world needs more of, it's people eating bacon.
Mini-Bacon Tomato and Basil Sandwiches
As the author of this post says, "I am a complete sucker for anything with the word "mini" in the title. Mini-golf. Mini-series. Mini-cooper. And add the word bacon, and I am pretty much helpless." If you click on the link, you'll find a recipe for some summer party-ready li'l sandwiches. Just the sort of thing that'll keep you going on a hot May 2-4.
Bacon Talking Dog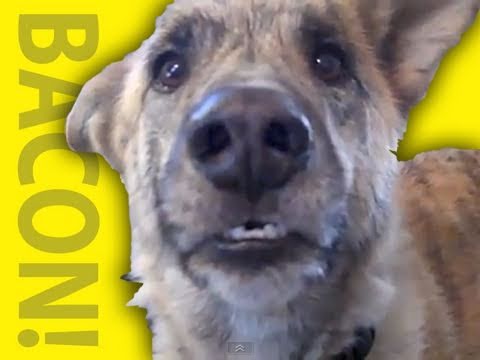 And on the big bacon and humourous video front is this talking dog video who is crying over some maple bacon. I won't spoil it for you by describing it any further. After only circulating for a few weeks, the video has gotten a quarter of a million views. After you've seen it, you'll totally see why.