We've covered a lot of different ways to cook bacon on this blog. We've even gotten into a few arguments about the best way to do it. But today, all of the arguing is over. Today, I thought I'd do a round-up of all the different methods I've covered, in a handy-dandy reference post for y'all. Set your bookmarks, and follow along on our super-duper bacon cooking roundup. (Okay, I need a better name than that.)
Frying Bacon
Frying bacon is the most common way to cook up some bacon. CHOW provides this handy video to give you the basics of what you need to know. But what if you want to fry in winter? Baconology will help you out with that. And some people are so committed to frying, they use their bacon alarm clock to do it. But mostly, I just like to watch it fry.
Deep Fried Bacon
If you love something enough, you just have to deep fry it. (Well, please don't deep fry your pets!) Chef Rob has given us a great recipe for deep fried bacon, but there are so many out there. For example, the ever-dependable Instructables has one. As this site will tell you, Sodolak's Original Country Inn is the place to go for Deep Fried Bacon, but if you can't make your way to Texas, you could try this version of his recipe.
Baking Bacon
Possibly the most popular form of cooking bacon? Maybe I won't open that can of worms again. If you didn't think there is a fight between frying bacon fans and baking bacon fans, chowhound brings you up to speed. Taste-the-bacon runs down the basics of baking and so does Bacon Goddess. In fact, pretty much everyone can tell you how to bake bacon. It's not a favoured bacon cooking method for nothing!
Microwaving Bacon
Microwaving bacon is the poor man's way of cooking bacon: it probably should only be used in last resort situations when all other options fail you. But if you are in that situation, it can still present you with some unexpected issues. Startcooking steers us in the right direction. A Michelin reviewer has his own opinions about how to make the perfect microwaved bacon sandwich. If you need a good reason to microwave bacon, Livestrong gives you the deets on why it might be a smart choice. But if you just want to laugh, you can snicker along to Rachel Ray's ridiculous "Late Night Bacon" recipe.
Other Ways
There are other ways to cook bacon. For example, you can cook it on a BBQ in an explosion. Or, after you've hollowed out an orange, you can just cook some slices inside. For the militarists out there, you can use your leftover guns to cook some bacon. And it's never a bad idea to just stab it with some metal tongs and hold it over a campfire: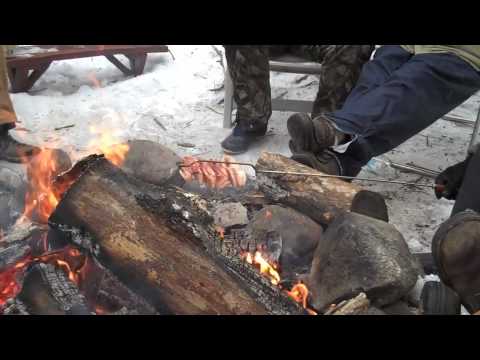 What do you think is the best way to cook your bacon?