We here at the Republic of Bacon absolutely love it when our fine readers send in bacon news and tips for us. It reminds me that we have a whole army of bacon lovers out there in the world, keeping their eyes open for whatever breaking bacon news is happening out there in the real world. Every day our submission form is brimming with all kinds of goodies, and we follow up on your tips whenever we can. Sometimes these pieces in bacon info are just nifty, and sometimes they become a part of a larger post – and every now and again, your tips are some awesome that they become a full post unto themselves.The most recent gem to land in our inbox was not a recipe or a tip about a new bacon-themed restaurant opening up in your town. Nope, this one was much more…creative.
Skilletz a/k/a N1nestein
What one enterprising reader decided to send us this excellent music video. This sizzling new single was composed by electronic dance/ EBM artist N1nestein, the musical persona of one Don Weismantel.
Don began his work in XBX, and now writes and records full time from his home studio in a Chicago suburb. More of N1enstein's work can be seen here on his ReverbNation electronic press kit.
Lately, N1enstein's keen musical eye has fallen upon the topic of bacon, and he has written a new song, a cheeky and supremely danceable tune called "Untz Untz Bacon." The word "untz" is an onomatopoetic word used to refer to the repetitive electronic beats that characterize a lot of techno and electronic dance music. For the purposes of this song, N1nestein takes on the amusing alter ego DJ Skilletz.
Untz Untz Bacon
Get a load of some of these lyrics:
"I hear the untz untz of the bacon
That somebody is makin'
On the kitchen stove right now
The bacon untz untz makes me dance
In my plaid pajama pants
Hands up for bacon take a bow"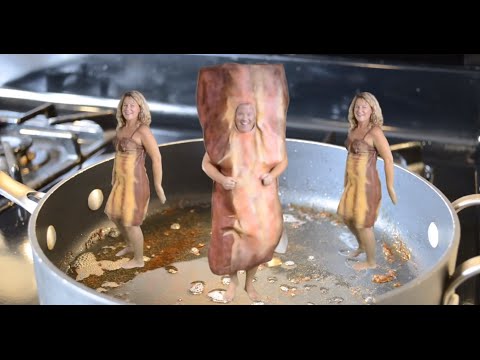 The video itself is totally hilarious. It follows the storyline of a man, still asleep in bed on a weekend morning, whose dreams begin to be invaded by the delicious smell of bacon that someone is cooking downstairs. He goes on a series of adventures around the world, chasing a cartoonish piece of bacon and dreaming of the moment he finally gets to settle down to breakfast.
The song cleverly employs several bacon oriented samples and sounds in its composition, such as bacon sizzling in a pan and the cheers of hungry people finally getting served the breakfast they've been dreaming of. Give it a listen and tell us what you think!